Voices in Action, 2023: TMI Project's biggest event of the year is back after a three year hiatus!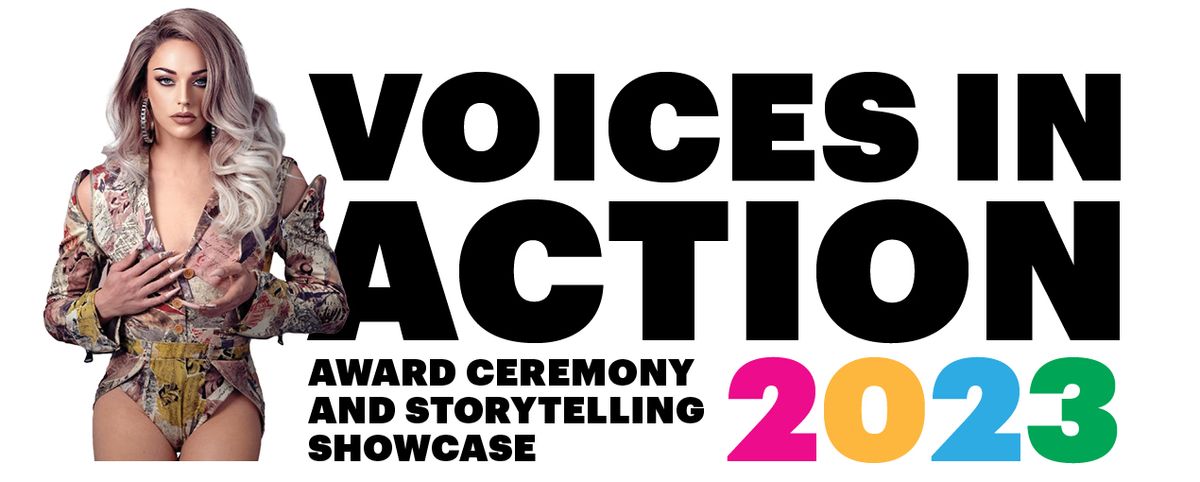 WHERE: Senate Garage - 4 N Front St, Kingston, NY 12401
WHEN: September 28, 2023, 6pm
ATTIRE: Festive and Fabulous!
COST: Free, RSVP required
(donations and sponsorships are welcomed and appreciated)
---

Voices in Action offers a vision of the world we want to live in, celebrating joyful performance, vibrant community, and radically true storytelling. Join us at 6pm for drinks, hors d'oeuvres, light fare, music, and mingling. The main event will start promptly at 7pm.
Laganja Estranja will receive the 2023 Voices in Action award in honor of her groundbreaking work as a drag performer and trans activist. The award will be presented by Celeste Lecesne, co-founder of The Trevor Project and 2018 Voices in Action honoree.
TMI Project will honor local artists and activists for their contributions to the Hudson Valley culture and community. The evening will showcase three TMI Project storytellers, all of whom crafted their narratives in TMI Project online storytelling workshops during the pandemic, and have yet to perform for an in person audience. See the full line up, learn more, and RSVP at tmiproject.org/voicesinaction2023.
---
Message From The Artist:

I am so blessed to have worked behind the scenes to help make this night of celebration possible. If you are in the Hudson Valley - I highly recommend showing up. I mean - hey - it's free!
On top of that, Voices in Action really is a magical night of recognition and merrymaking. TMI Project fosters an environment that seamlessly blends comedy and community with vulnerability. While Voices in Action celebrates the local change makers of the Hudson Valley, it will be hard not to feel like you are also celebrated. It is a sacred space where everyone is given permission to show up exactly as they are and be present for a fantastic evening.
I hope to see you there!
And, if you have the ability to do so - please leave a small donation with your reservation. Any amount is meaningful and helps TMI Project keep the proverbial lights on and continue their integral, community-building programming.